I like reading books. Since 2016, I started to write summaries and reviews of all the books I read, and gave each book a score out of 10 (with the average about 7.5). In this article, I will analyze my book review data: which types of books do I enjoy the most?
In 2020, as the world entered lockdown and with social activities postponed, I found myself with more reading time than ever before in my life. I finished about one book a week last year.
What types of books do I like?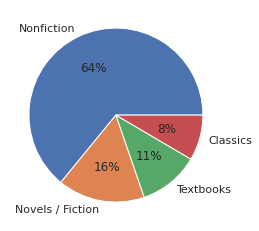 The majority of my books are nonfiction, and I don't read much fiction (only 16% of books). I decided to assign separate categories for popular nonfiction (intended for a general audience) and textbooks (more technical material intended for a specialist audience, typically undergraduate level). Likewise, fiction is separate from classics — the boundary is fuzzy but I'll assume it's a classic if it's famous and written a long time ago.
Textbooks and classics have higher ratings than general nonfiction and contemporary fiction. I guess classics are classics for a reason — they're actually good books that stood the test of time.
What subjects do I like reading?
I assigned 15 subject categories for my books. My two most popular subjects are World (I like traveling and learning about other cultures) and Natural Sciences.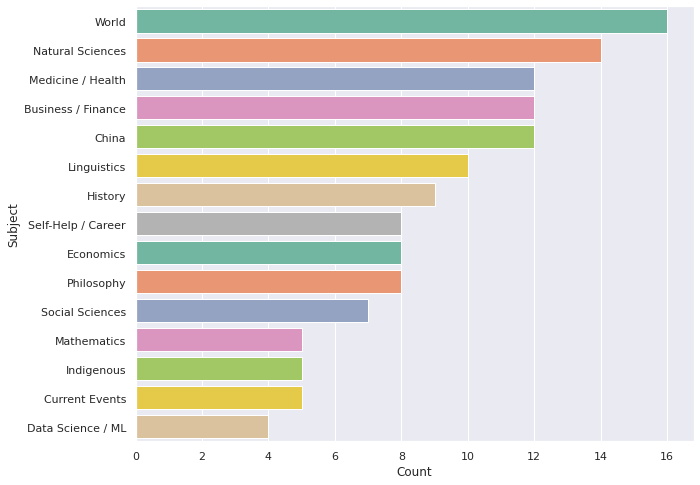 My highest rated subjects are Philosophy and Economics; the lowest rated subjects are Business / Finance and Current Events. There are certainly some good business books, but they often overgeneralize from anecdotes, and confuse correlation with causation, leading to a low rating. Philosophy and economics books tend to have well thought out arguments supported by either logic or data, which adds point from me, coming from a STEM background.
Books that I didn't finish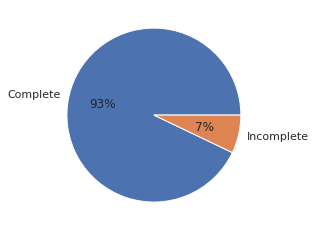 I finish most (>90%) of the books that I start, but not all of them. For books that I didn't finish, I usually read 100-200 pages before dropping it, and write a review for it anyways. As expected, incomplete books have a lower rating than completed books.
How much do I read a day?
On an average day, I read about 35 pages, which is not a huge amount. Consistency is key: on 85% of days, I read at least 10 pages. Over several years, a little bit every day adds up to a lot of books read.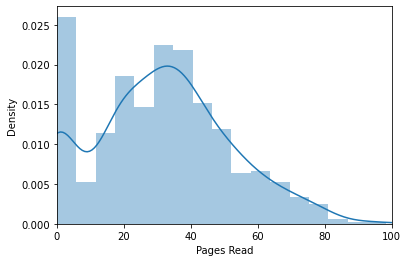 If you enjoyed this analysis, check out some of my book reviews, and please consider joining my mailing list to receive weekly book reviews!